It goes without saying that Filipinos are generally carnivores. Just mention "steak" to someone from here, and I guarantee that person will either gasp in excitement as if they just saw their childhood crush (Phoebe Cates, anyone?), or release a mighty river of drool.
Most of us here lost our steak virginity to places like House of Minis or Sizzling Plate - with the former being the classier of the two (erm.. Sizzling Plate is found in food courts). I still remember my first time like it was yesterday: a bow tie sporting waiter would take you to your seat. Two small hot rolls would appear at your side, as would a plate of salad with radioactive dressing (I used to call it that.. it's our old friend Thousand Island) and a special dish that I like to call "cream of sinigang" (Don't bother asking). Suffice to say, it all made your meal "sulit" (worth the money). Then the piece de resistance - a beefy .. uhm .. slice of what I would think was Batangas beef, atop a sizzling plate (Yes, Filipinos are suckers for anything on sizzling plates: spaghetti, chicken, fish, you name it!) with maybe 5 pieces of vegetables and smothered with gravehhhhhh!!! MMMMMM BOYYYY!!!! And of course, it would be sacrilegious to NOT be offered a bottle of Knorr seasoning -- all the better to flavor your steak AND your side of rice or mash. (Mashed potatoes? Sacre bleu! Garlic fried rice please!)
Sigh. Thinking about it makes me misty eyed with nostalgia. It wasn't the best beef, but by golly.. it was OUR beef. This was all pre-Aussie beef, pre-Angus, pre-American Wagyu.. the days when we had to buy Spam from a PX STORE. Can you imagine that? THE DARK AGES.
Nowadays, every restaurant in Manila and their brother is flogging the virtues of Wagyu and Angus. Some decent takes on this to be found, but we have yet to approach the kind of steak you can get at places like Peter Luger.
Peter Luger Steak House has been around for 100 years. A century of meaty goodness, my goodness! Situated in a quiet corner of Williamsburg in the New York borough of Brooklyn, PL has consistently been given the accolade of top steak house by the Zagat survey for as long as I can remember, and then some. Apparently it's also a James Beard American Classic. In my life, it now holds the distinction of being the only restaurant that I've been to every trip that I've been to New York. I take people there all the time.. it is, in my humble opinion, a tribute to the cow. :)
Last October saw me and my little platoon in Manhattan for the wedding of our dear friends Mike and Carly. Both meat eaters, of course I had to trek them, Cres and our other friend Cri out to Billyburg to give them a paradigm shift in steak consumption.
Getting there is always part of the fun. Taking the subway to Brooklyn is like crossing over to another world. It's MUCH quieter, for sure. You get off above ground in the Marcy Ave station (in my experience, when you get off above ground from a New York subway, that means you're a bit far) and go down Broadway. A few blocks walk from the station and you will see the brick facade. You just know you have arrived. Is your heart thumping yet? ;)
Once you enter, two things will happen: one, you will realize that if looks quite non de-script for a supposed top notch steak joint. The decor is.. well.. it isn't the strong point. It looks like a German barn/beer garden, complete with steins (turns out this neighborhood used to be predominantly German). Then again, I guess it all adds to the experience, right? The second thing that will happen is that you will get a whiff of sizzling beef - a teaser, if you will, to prepare you for things to come.
We got a nice little window table. Immediately we are given menus by our waiter - a guy who looks like he's an expert at what he does and who has probably been there forever. No actors in waiting around here... these guys are the real deal. They get a lot of press for being gruff and even a bit tyrannical, but I've never come across anyone like that since I first started coming here. All the waiters who have ever served me were funny, efficient, and definitely experienced. I think the Luger owners take pride in their service, because when you open their website their waiters are in the opening page. Ours for this meal was the man in the middle of the picture.
They left the ordering to me (just like most people do.. I wonder why?) I have a rule of thumb that my dad taught me from our first visit here: count the number of people and minus one person. That's how much steak to order. Since we were 5, I ordered steak for 4. Normally I'd order a lamb chop or two for everyone to try (they are excellent here), but since it was lunch we ordered their... cheeseburger. Just one for us to all try. Rhapsodized by many, their burger is only available during lunch and is the cheapest item on their menu at $5. We also got a piece of bacon each (don't be surprised.. you'll see why) and some sides - a salad of giant beefsteak tomatoes and raw sweet onions, some creamed spinach and fries.
Some bread arrived first - onion rolls, crusty on the outside and soft on the inside. A voice in your head will say save space for the food, but this bread was good. Just a taste. A small one. I promise. My precioussssss......
The waiter arrives and plops down some of their secret recipe steak sauce. It's basically like a cocktail sauce.. well, sort of. Truthfully, you don't really need this, but it is so damn tasty.. most people pour it on their tomato and onion salad, or on their German fried potatoes (my friend Louele puts sour cream and the sauce - an inspired combo!). In Manila it's liquid gold - food specialty store Santi's Deli sells it for gobs of money (incidentally, you can purchase said sauce in the PL website, alongside with other stuff like meat and cutlery.. well, if you were had as famous a brand as theirs, wouldn't you? Heck. I even have a t-shirt. hehe!)
The appetizers show up soon after. The tomatoes and onions are, as they always have been, top notch. The tomatoes are a bright red hue, and taste sweet, as do the crunchy onions. Slathered with the steak sauce, it will open your taste buds for more pleasures. The only one who didn't eat it was Cri because he hates vegetables. TOO BAD.
What can I say about the cheeseburger? It's so deliciously meaty - 100% beef for sure. A Spartan's burger! I'm pretty sure it's from the same meat source they use for the steaks that they dry age themselves, so you get nothing but pure meat flavor, seasoned with nothing but salt and pepper. I find most of our burgers in this side of the world tasting of onions and *gasp* garlic! One bite into this, and you know you're getting the real deal. Is it the best burger I've tried? I don't think so, but it's definitely one of the tastiest and purest!
Bacon. Ah, the bacon. Not something to eat everyday, but something that always puts a smile on your face. Luger bacon was something I discovered in my research. I was compelled to order it when I first heard about it, and now it's something I make sure I recommend to everyone who asks. When you get your one piece (who eats just one, right? well, you'll eat just one of this, methinks - it's smoky, porky, and like a slab of liempo (grilled pork belly, Filipino style) in thickness. EVERY Filipino I've ever made try this practically beg for rice! Alas.. maybe next time I'll bring my own. ;)
Now, the star of the show. The steak. Porterhouse, the king of cuts. As I mentioned earlier, we had two. One medium and one medium rare. This place has their own dry aging facility - they've mastered the process completely and ensure the quality of your steak each and every time. Dry aging basically breaks down the meat's fibers - don't look at it when it's in the aging process if you're squeamish .. it almost looks like it's rotting - but when it's cooked? Ayayay! Over SUPER hot flames, the chefs here make sure the meat has lots of crusty edges (not burnt, mind you!) and dribbling juices. It's served sliced and in the now oft copied way of a plate that's tilted so the bottom catches the pool of juices emanating from the steaks. The tip of the plate is heated so you can cook your meat some more if you choose to do so. Oh, and I'm pretty sure it's finished off with some butter. Caramba. Some people can finish one whole. I've seen a group of old ladies with one steak each!!! Man, can they eat! A few slices for me, thank you.. but those few slices are all I need for my meat fix. With some potatoes and creamed spinach, you have a grand meal indeed.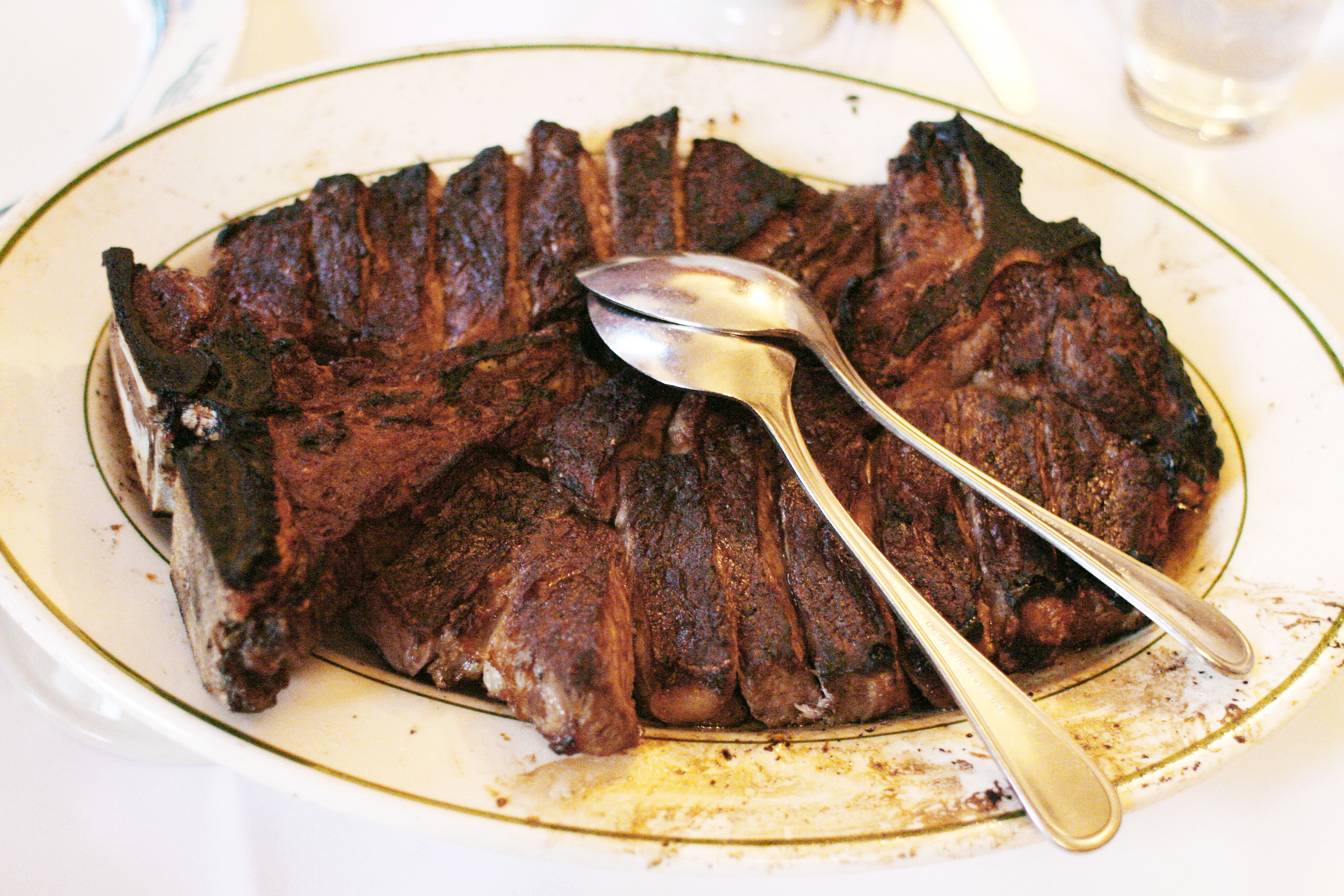 So after downing all that meat (er.. *some* of us even hit up the bones), we ordered some coffee and some dessert. Every dessert here is served with a huge bowl of "schlag" (German for whipped cream) and the cream in itself is the perfect way to end a perfectly decadent meal. Of course, we had ours on top of a hot fudge sundae (with a side of Luger chocolate gold coins to boot!), as is tradition for my family. If you have enough strength, walk around Brooklyn. You could even take you sweet time and cross the Brooklyn Bridge. Or you could just go back to the subway, go home and take a nap. *Sigh*
PETER LUGER STEAK HOUSE 178 Broadway
Brooklyn, New York 11211
(718) 387-7400
NOTE: PETER LUGER is CASH ONLY.