It's always a sign that your food scene is alive and kicking if restaurants are successful enough to quickly sprout sibling establishments. Such is the case for The Moment Group, the minds behind the very popular 'Cue Modern Barbecue, located in High Street North, Fort Bonifacio. If I could add a hash tag to them, it would be #extremelyfertile. No, really. 'Cue opened a little over 6 months ago as of this writing.
Their newest baby is called The Burger Bar. "Oh no, not another burger place!" I can hear you screaming already. Hush, child – things are just warming up.
Located in a funky second floor spot amidst the hustle and bustle of Greenbelt 2, BB is a wink and a nod to Archie Comics' Pop Tate's – the proverbial hang out joint – with booths and tables in a cozy, music filled environ. Actually, the more you get to know the Moment Group, the more the "wink and a nod" seems to pop up – all in acknowledgement of things from their youth, their travels, and their personal histories.
Consider this – a wink and a nod gone extreme: the House Burger of 'Cue, the father figure of everything at Burger Bar, is, in this writer's opinion, a local mile stone burger. In a time when everyone was (and actually still is) flouting using super premium meat, 'Cue used a local source and created their own burger blend – and the result was a punch in the gut delicious, flavor filled sammy. The Burger Bar took that blend and spun it into a whole new tangent, introducing four blends – the House Blend, a re-tooled 'Cue burger; the Big Game – a dry aged blend; the Beef Bomb – the leanest patty; and the Steak Cut with the richest beef flavor – the point being that each will shine in their own respective sandwiches.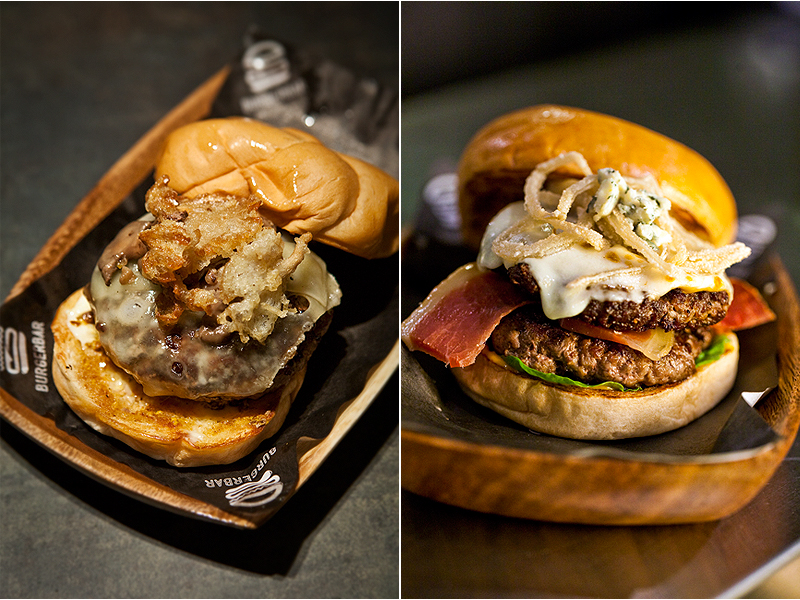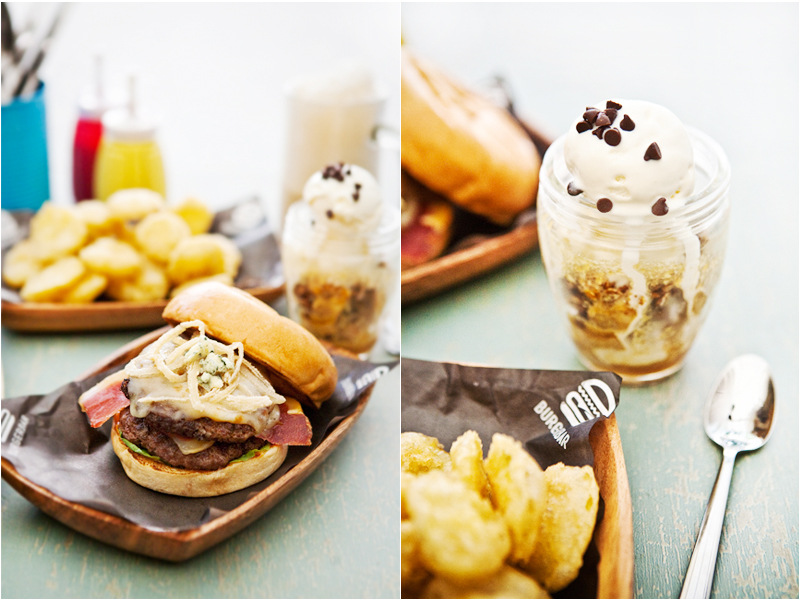 (Which doesn't mean you can't customize your own, of course, because you most definitely can when you order "The Boss" where every single minute detail is in your hands, from a plethora of toppings to a selection of breads.)
It is understood that there are burger people and non-burger people. For the nons, there are several sandwiches that one can partake of: a classic fish sandwich, a crispy chicken one, a pork slider, a hot dog, a lamb burger, even a falafel burger for the (*gasp!*) vegetarians. There are also nods to childhood treats (fried chicken with Star rice!), salads, pastas, fun appetizers like classic buffalo wings, truffle fries and fried pickles, and desserts, of course: a bit of something for everyone. (Don't laugh at the notion of fried pickles – pickle lovers might have a foodgasm with 'em!)
But let's not fool ourselves here – the B-bar is a temple to the bovine treat that every body loves, and it's definitely their field of expertise. The long and short of it is a mission to "build a better burger" – no gourmet this, no foie gras that – just a happy little burger joint doing happy big ass burgers. No reservations taken, no white table cloth, rock floating in the air – this is the place to hang before or after the epic evening, sipping ice cold brews and downing some grub. Expect to waddle out of here in a hazy daze, with lips smacking loudly and slightly glistened from the juices of your double patty meatstravaganza. Another welcome addition to our local food scene.
*First published on Rogue Magazine, February 2013; Burger Bar: Happy Place