With their impressive fine-dining credentials, Walter and Marge Manzke—star chefs in California (Bastide, Church & State)—decided to open shop in our corner of the world with Wildflour, the restaurant of the hour
BY JJ YULO | PHOTOGRAPHS BY CRES RODRIGUEZ-YULO
This restaurant called Wildflour popped out of nowhere, really—on a non-descript corner of the Fort, near offices, auto-showrooms, and a coffee chain. And the buzz their food has generated is turned all the way up to 11, like Nigel Tufnel's amps.
I can hear you already: "Another freakin' bakery/cafe? Let me guess what's on the menu—chocolate cake with a drizzle of caramel sauce, their lola's sans rival, maybe an ensaymada or three." Not even close, o jaded reader.
Consider what we're dealing with here. In the kitchen are two of the chef owners, L.A.'s Walter and Marge Manzke (the third owner being Ana de Ocampo, Marge's sister, who handles the front of house). Their culinary pedigree is pretty damn impressive—if they played ball, they'd be in the NBA for sure. You wouldn't really think it, upon meeting them. The few times I've spied on Walter doing rounds in the dining area, he was sporting two things: this goofy little grin on his face and a pair of shorts. Ditto for gentle Marge, who can pass for the Pinay girl next door. No chef rock-star swagger from these two, which makes them all the more endearing.
But do the 21st century thing and Google, for example, Walter Manzke, and you will see for yourself the kind of heat he packs: he's either helmed or opened fine dining restaurants all over Northern and Southern California (including a few with pastry chef Marge) and one in Chicago. He's spent time in Europe as well with Alain Ducasse—even staging for a bit at that temple of gastronomy, El Bulli. All of this before winding up on our shores, which they visit often because of Marge's family.
So what does this all translate to in Wildflour? They leave their signatures of excellence on everything, actually, beginning with their bread service. They're not a bakery for nothing, after all. Upon being seated you will be served some slices of baguette alongside salted butter. Don't go all carb-phobic and shun it—do yourself a favor and have a piece. I haven't tried much bread better than this; a famous restaurateur I spoke to one night said they would officially order all their bread from here. It was that good.
From there it's a delicious journey through some solid bistro-like fare: aperfectly cooked "California" burger, adorned with molten cheese and a few greens on a truly exemplary house-made brioche bun . . . garlicky escargot, hiding underneath a small dome of puff pastry . . . a smooth tomato basil soup . . .tarte flambé, a French "pizza" of sorts with bacon, caramelized onions, and gruyère . . . a fillet of red snapper with butter and capers, perfectly cooked . . . sisig bahn mi sliders—an homage to the Pinoy love affair with pork . . . Italian roast pork porchetta on killer ciabatta . . . and an off-the-hook molten grilled cheese sandwich, once again appearing on their brioche. There's other stuff, of course, but I don't want you to think that I've eaten the whole menu. (Or maybe I have.)
Where good breads roam the earth, good desserts are probably not far behind. Continue to great sweets like the seemingly simple chocolate pot de crème, which will make you moan; or a tres lechescake in a glass, or a yuzu-kissed super-light cheesecake. If you walk in early in the day, there's a glass-enclosed treasure chest of baked goodies—sticky buns, bombolonis (Italian donuts), homemade granola, and coffee cake. Even their coffee service, with everything from espresso-based drinks to Vietnamese coffee to the cleanest, purest, old-school method, the pour over—where the barista controls a steady stream of coffee into a filter over your cup. All cups ground upon ordering. Clearly, they care about what you're going to stuff into your mouth.
The fact that this is still an evolving menu is a clear sign of more delicious things to come. Wildflour is already pretty solid as it is, and it will definitely win a special place in many a food lover's heart and stomach. At the end of the day, all they really seem to want is for you to come in, hang, and just enjoy what they have on hand. I personally think they've succeeded—the buzz is positively deafening by now.
Nigel Tufnel would be proud.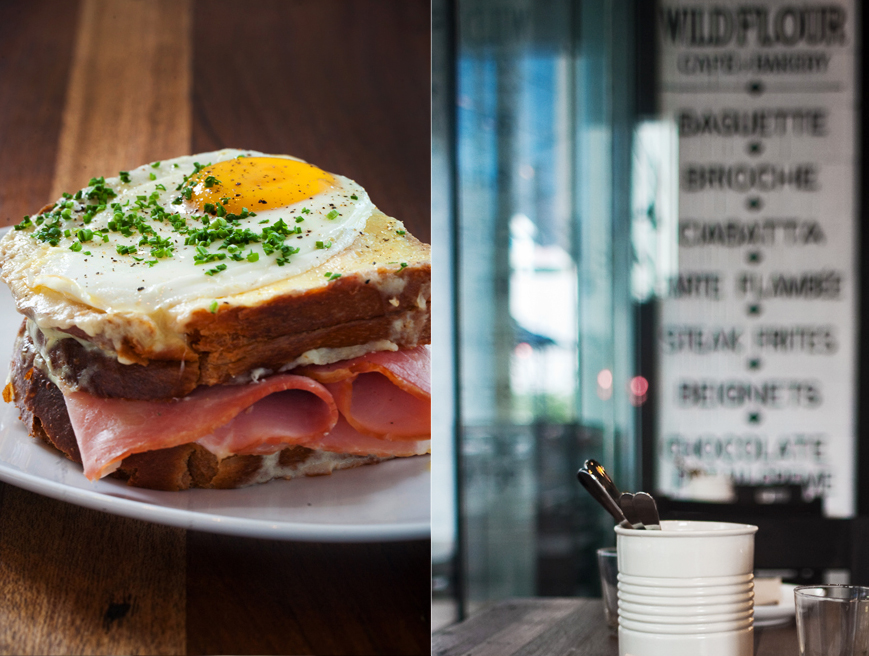 FIRST PUBLISHED IN THE SEPTEMBER 2012 ISSUE OF ROGUE